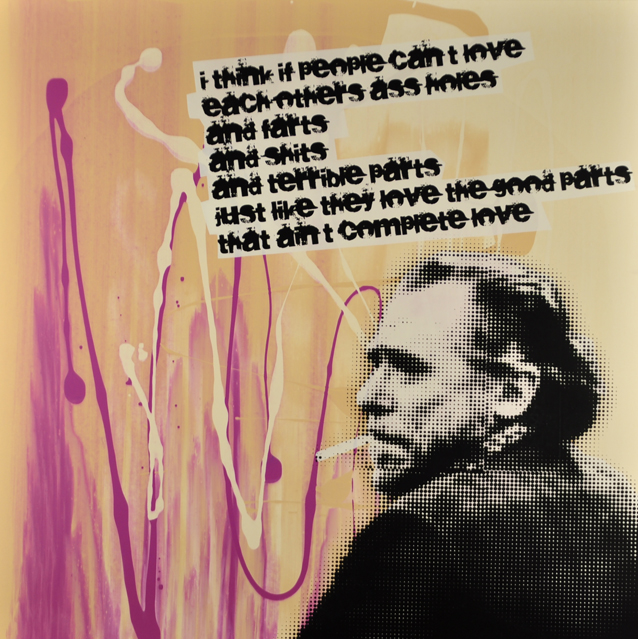 Dieses äußerst rohe und poetische Werk hat es verdient einen Platz in der aktuellen Kunstwelt zu bekommen. 
Mit einer Auflage von 50 individuellen Siebdrucken gelingt JOMA diese Hommage mit fast erdrückender Leichtigkeit.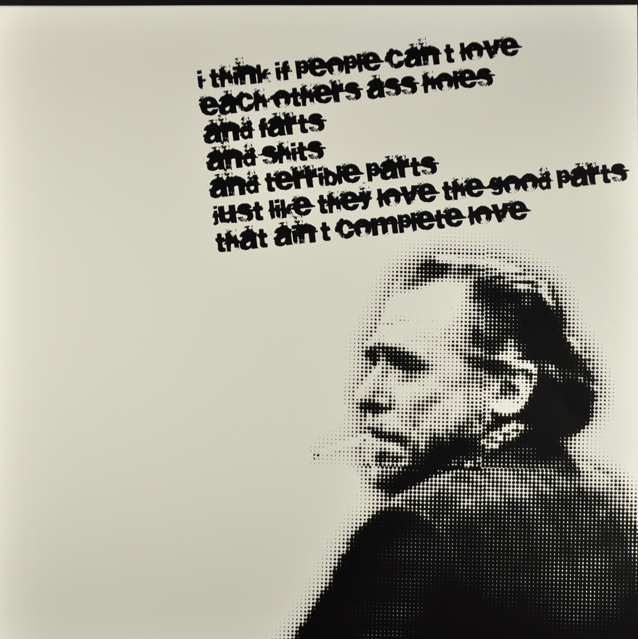 The Best Love Poem I Can Write at the Moment,
Listen, I told her why don't you stick your tongue up my ass? 
No, she said.
Well, I said. If I stick my tongue up your ass first then will you stick your tongue up my ass?
All right, she said.
I got my head down there and looked around opened a section then my tongue moved forward.
No not there, she said ahahahaha not there, that's not the right place.
You women have more holes than swiss cheese.
I don't want you to do it!
Why?
Well, then I'll have to do it back and then at the next party you'll tell people I licked your ass with my tongue.
Suppose I promise not to tell?
You'll get drunk, you'll tell.
O.k., I said, roll over and I'll stick it in the other place.
She rolled over and I stuck my tongue in that other place.
We were in love we were in love. Except with what I said at parties and we were not in love with each others ass holes.
She wants me to write a love poem but I think if people can't love each others ass holes and farts and shits and terrible parts just like they love the good parts that ain't complete love.
So, as far as love goes as far as we have gone this poem will have to do.